Digestive Consultation
In CMED we offer all consultations regarding the digestive system required by our patients depending on their specific disease; gastroenterology, pediatric digestive system, general and digestive surgery, hepatology, coloproctology and even, medical oncology for digestive tumors and cancers.
Pediatric Gastroenterology Practice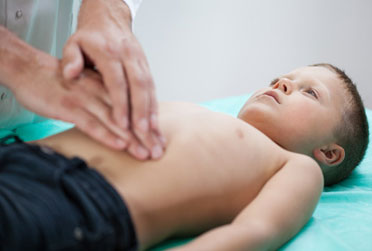 Pediatric Gastroenterology Consultation deals with all digestive conditions in children from 0 to 17 years old.
Children are very special patients who have to be treated not only differently but also using diagnosis techniques adapted to their size and physiognomy.
Among the most frequent pediatric digestive pathologies we find:
Celiac Disease
Food intolerances and allergies such as milk or egg.
Gastroesophageal reflux
Abdominal pain both acute (punctual) and recurrent.
Failure to thrive: When weight does not correspond to age, when children lose weight without cause or when they stop gaining weight.
Diarrhea
Constipation
Vomits
Pediatric Gastroenterology Consultation in CMED also relies on the necessary medical technology to perform medical diagnosis tests to pediatric patients:
Gastroscopy
PHmetry
Manometry
Esophageal impedance audiometry
Both the pediatric gastroenterology consultation and the necessary digestive tests to obtain an exact diagnose take place in our center by our professionals who are capable of providing a rapid diagnose of the disease of the pediatric patient and prescribe a treatment adapted to its needs.