Digestive Tests
Our installations are provided with highly skilled professionals and cutting-edge technology to perform the digestive tests necessary to achieve an early and personalized diagnosis. This combination within the same space provides CMED physicians access to the tests of each patient from their computers.
Abdominal Ultrasound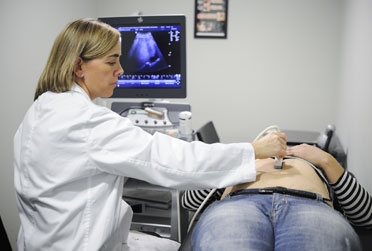 Ultrasound is a diagnostic test which may be used to diagnose diseases both of the digestive system and of other parts of the body. Thanks to the use of ultrasound waves, the radiologist obtains a view of the organs to be examined in a painless and safe manner for any patient.
Abdominal Ultrasound aids the study of the liver, gall bladder and biliary ducts, pancreas, spleen and kidneys. It is a highly demanded test by specialists in the digestive system as it helps detect tumors and cysts in abdominal organs, swelling or presence of stones in biliary ducts or gall bladder, hepatology diseases such as fatty liver and serves as guide in case of a puncture or biopsy with highest precision.
Abdominal Ultrasound does not last normally more than 15 minutes and, as it is totally safe (it is normally done to pregnant women) does not require any consent.
The patient will only have to follow some recommendations regarding the intake of water or food explained by the specialist of the digestive system at the time of the prescription.