Digestive Consultation
In CMED we offer all consultations regarding the digestive system required by our patients depending on their specific disease; gastroenterology, pediatric digestive system, general and digestive surgery, hepatology, coloproctology and even, medical oncology for digestive tumors and cancers.
Hepatology Practice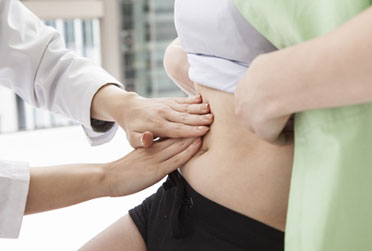 Hepatology is a branch within Gastroenterology devoted to the study, diagnosis and treatment of all diseases involving the liver.
The liver is the second biggest organ of our body (only after the skin) and its main function is to aid to the metabolization of food, both solid and liquid we take.
Most frequent liver diseases are alcoholic and non-alcoholic hepatic steatosis (commonly known as fatty liver), hepatic cirrhosis, all types of hepatitis, liver tumors and hepatic metastasis caused by the extension of a tumor in another organ of the digestive system.
At present, medical and hepatitis-related research has seen great progress and it is possible to cure with the continuous and total follow-up of patients with Chronic hepatitis C. Hepatitis C is a disease only transmitted by blood and needs continue follow-up as it may end up in serious hepatic cirrhosis and even in liver cancer. The main problem of hepatitis C is that in its first stages it does not present symptoms so in many occasions it is detected when it has already caused damages, sometimes irreversible, to the liver.
The team of CMED professionals, hepatologists, gastroenterologists and digestive surgeons is in constant communication when dealing with patients with this condition to be able to make decisions when surgery is necessary to resect part of the liver or even performing a transplant.
CMED relies also on the necessary medical technology to diagnose hepatic diseases such as the CT (Scan), abdominal ultrasounds and analysis of tumor markers (alfa-fetoprotein). When required, our patients will be moved to reference private hospitals to perform a laparoscopic biopsy and a direct puncture.