E-CMED
This section is for our patients to have the possibility to request an ONLINE VIDEO CONSULTATION wherever they may be with CMED professionals. Patients may see their doctor from home without moving to the center and offering the physician the possibility of having direct access to his medical history.
E-CMED Online Video Consultation
In CMED we consider that medicine and new technologies are inseparable allies. This union helps our physicians provide our patients with early and accurate diagnosis, more effective medico-surgical treatments and shorter recovery processes.
This alliance between the medical know-how and the technological development is the core of CMED and we have attained the integration of this combination as follows: E-CMED Video Consultation; an exclusive service fruit of over 30 years of experience in medical practice and progress of new technologies.
Thanks to this new medical service, you access a medical video consultation with our specialists in the digestive system through Internet, wherever you are in Spain or worldwide. In addition to the flexibility regarding time, as you are the one choosing the moment of the Online Consultation, you will be able to save time and transfers.
E-CMED Video Consultation gives you the opportunity to choose the physician and the time as well as to send him the necessary clinical documentation before the Video Consultation through our platform in a totally safe manner. This provides your physician with all information necessary to give a more accurate diagnose and if, necessary, prescribe treatment or tests. All these from you home.
Advantages of E-CMED Online Video Consultation
1. All professionals are part of CMED family so you will be able to benefit from their experience and personalized service.
2. We are only one click away, do not spare one minute of your time moving or waiting and make the most of your time.
3. You will always have access to your medical history (tests, reports, discharges, post-surgical or treatment recommendations, etc.) and you will be able to manage your video consultations when necessary.
4. Broader consultation hours to adapt to your professional and personal needs.
5. You may solve specific doubts through the message service without having an appointment.
How to request a E-CMED Online Video Consultation?
1. Click on the logo or link to Video Consultation on the upper part of your Web or on the professionals offering this service or click here.
2. Search and/or select the professional with whom you wish to arrange a video consultation.
3. Access his agenda and select a date and time.
4. If this is the first time you access, you will have to give your personal and invoicing data.
5. Explain what happens and your symptoms.
6. Confirm the consultation and fill in a basic health questionnaire (age, weight, height, etc.) .
7. You have an appointment! You will receive an email with a link to fill in your user profile and attach any medical documentation.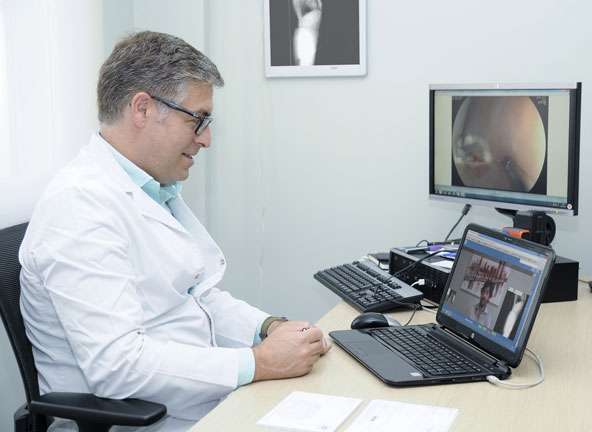 E-CMED Chat Consultation Service
E-CMED Chat Consultation Service is another way to receive health advice from our physicians.
It is part of our platform of telemedicine and is only available for registered users so confidentiality between physician and patient meets the highest security standards and data encrypting. Once you have accessed, you will be able to send your query and attach any documentation to the physician to obtain an answer in less than 48 hours.
The service of chat consultation is another way of being in touch with CMED medical team in an easy, quick and economic manner.
Click here and access the online platform of E-CMED, sign up and send us your query.
Advantages of E-CMED Chat Consultation
You will be able to send your query at any time from any device.
You only have to register, write to our specialists (including files attached) and in a maximum period of 48 hours you will receive an answer.
It is a high quality professional medical service at an affordable price.
If we cannot help you (lack of information, complexity of the case) the amount paid is returned.
Digestive Specialties available online
Digestive system – Gastroenterology
General surgery and of the digestive system
Coloproctology: Hemorrhoids, fissures, fistulas
Inflammatory Bowel Disease: Crohn Disease and Ulcerative Collitis
Constipation
Pediatric Gastroenterology
Hepatology: hepatitis, fatty liver, cirrhosis…
Gluten intolerance and sensitivity
Nutrition
Medico-surgical treatment of obesity