Digestive Consultation
In CMED we offer all consultations regarding the digestive system required by our patients depending on their specific disease; gastroenterology, pediatric digestive system, general and digestive surgery, hepatology, coloproctology and even, medical oncology for digestive tumors and cancers.
Coloproctology Practice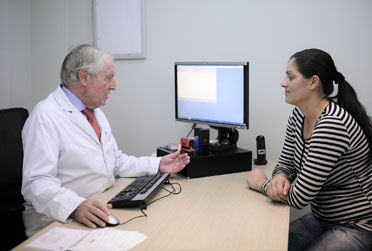 The Coloproctology consultation is the diagnosis and treatment of all diseases affecting the rectus and anus area.
General surgeons and surgeons of the digestive system of CMED in charge of this sub-specialty have broad experience in surgical identification and intervention (not always necessary) of the main pathologies embedded within Coloproctology.
The main conditions treated in this specialty are:
Hemorrhoids (both internal and external) that might be very painful for patients and which are necessary to operate in many cases extracting them.
Perianal fistulas and abscesses caused by an obstruction and subsequent infection of anal glands causing pain, swelling and chronic suppuration. Generally they are treated urgently to drain and end pus and blood suppuration.
Anal fissures which are injuries that appear normally in constipation periods causing pain and bleeding as they do not get to heal.
Condyloma. It's a disease of sexual transmission consisting of genital warts appearing in the anal and perianal area caused by the Human Papillomavirus (causing both cervix cancer in women and anus cancer in both sexes). Once the type of HPV is known and bearing in mind the size, they are treated either with medication or surgery.
This area of expertise also includes other diseases such as fecal incontinence and constipation, such important pathologies that CMED has created a special unit for their treatment.
CMED Coloproctology consultation is composed both of specialists of the digestive system and general surgeons and digestive surgeons to offer patients a comprehensive approach to these pathologies.